LET'S BE HONEST.
How the Government of Jersey responded with eye-opening honesty to a damming report into historic child abuse with cases dating back to 1945 and inspired dedicated children's social workers to come on a journey and make sure this failure never happened again. Jersey's reputation has suffered enormously.
The challenge.
Recruit Social Workers, Managers and Senior Staff, and reduce hugely expensive and totally unsustainable agency care worker usage.
The results PR:
The campaign captured wide-raging attention. There was a lot of local press coverage and the minister appeared on television to discuss the campaign.
The results Recruitment:
More importantly, the campaign has brought an impressive number of outstanding children's Social Workers to the island. And it is not finished yet.
19,455 MEDIA CLICKS TO CAMPAIGN SITE. 
533 MEDIA CLICKS TO APPLY.
263 REGISTRATIONS AT JOB FAIRS. 
246 APPLICATIONS.
91 INVITED TO INTERVIEW. 
32 HIRES (to date).
Winner RMAs 2019 Recruitment Effectiveness.
The job: Concept & Art Direction  

Agency:

TMP WORLDWIDE UK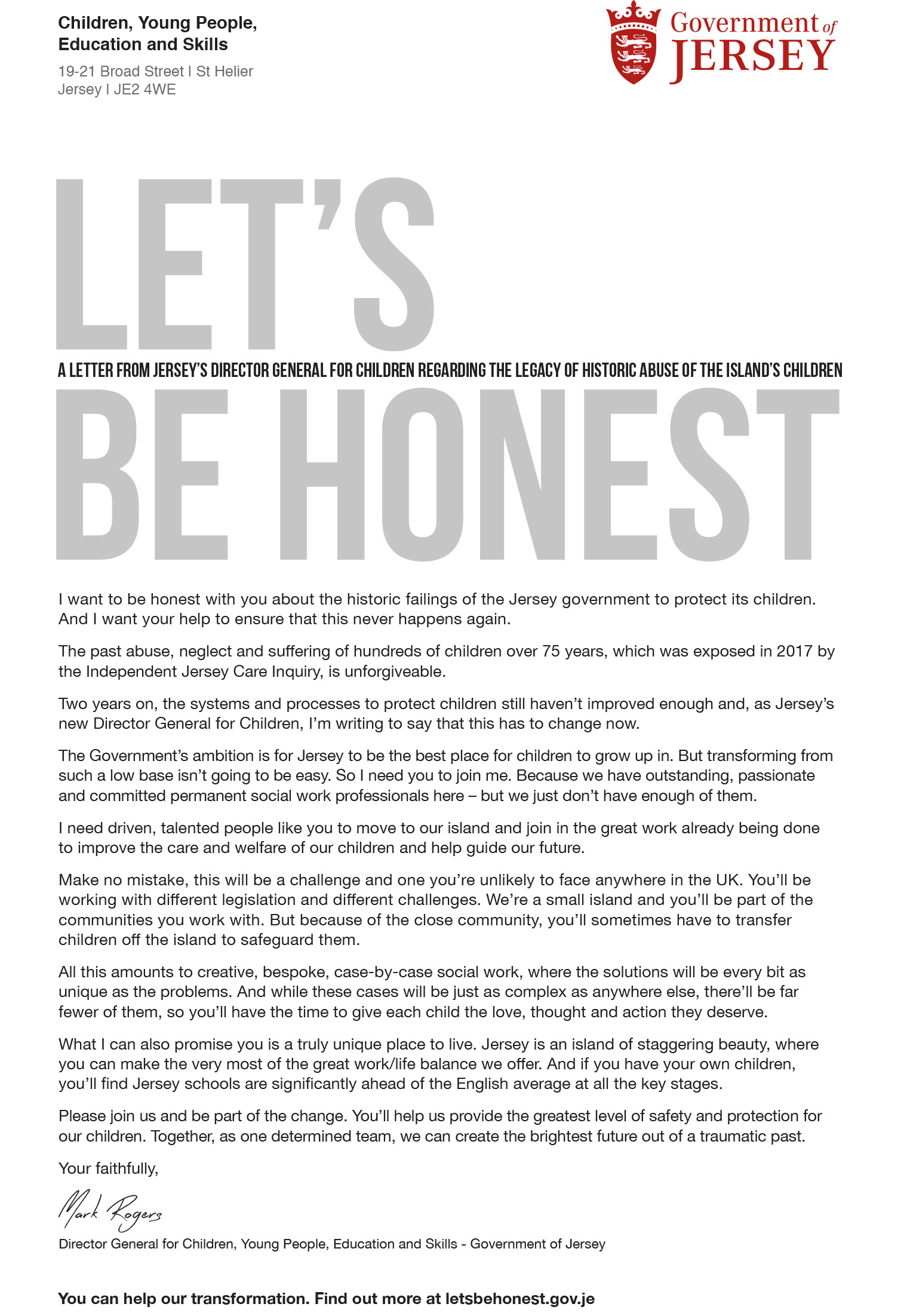 The letter.
This diverse campaign led with a letter – appearing as a print ad in the Guardian, the Jersey Evening Post and Professional Social Work magazine. The point was to be seen by the industry, be thought-provoking, get people talking, use bold language and inspire trust and interest in equal measure. This was more than a recruitment ad, it was a call to arms.